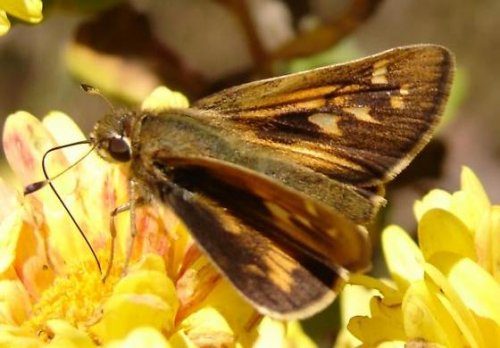 Somewhat weedy, this robust skipper is often found breeding in mowed lawns and visiting garden flowers - famously, in Capitol Park in downtown Sacramento! Widespread near sea level and in the lower foothills; less common in the coastal fog belt than inland. In recent years this species has seemingly reacted to global warming by expanding its range from northern california to central Washington State and Idaho. More recently still, it has jumped the Sierra and invaded the western great Basin, becoming established in Sierra Valley, Carson Valley and near Verdi, NV. It also has been very responsive to spring temperatures, emerging nearly a month earlier than it did near Sacramento 30 years ago. It is primarily an open-country species (grassland, agricultural land), but occasionally turns up along roadsides in mixed mesic mid-elevation forest. It tends not to persist in such situations.
Several broods per year (March-November in Sacramento Valley), the autumn brood always by far the most abundant. June-October at Sierra Valley. There is plenty of individual color and pattern variation. Autumn females are usually very dark, chocolate-brown beneath with distinct yellow spotting. Males are perchers , generally well off the ground.
Larval hosts grasses, including Bermuda Grass (Cynodon dactylon), Dallis Grass (Paspalum),and various others. An eager flower visitor, often seen at Tall Blue Verbena, Goldenrod, Rabbitbrush, Coyotebrush, Alfalfa, Thistles, Dogbane, etc.