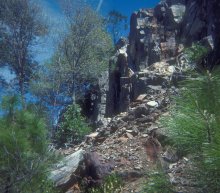 This mid-elevation site on the Sierran west slope (1500-1700m) embraces the South Yuba and Bear River drainages where they are crossed by Bowman Lake Road. The entire site is on metamorphic rock. It was selected because of its extreme ecological and floristic diversity. About 1/3 of the site consists of xeric rock balds with little soil development and a vegetation reminiscent of some desert ranges in southern California. This is dominated by Goldencup or Canyon Live Oak, Quercus chrysolepis (actually, perhaps a hybrid population with Q. vacciniifolia). Sierran Juniper (Juniperus occidentalis), Manzanita (Arctostaphylos mewukka and apparent intergrades or hybrids to A. nevadensis), California Bay Laurel (Umbellularia californica) and Tasselbush (Garrya fremontii) occur widely, joined locally by Bush Monkeyflower (Mimulus aurantiacus), Bush Penstemon (Keckiella),and Yerba Santa (Eriodictyon californicum). Herbaceous or subwoody associates include several Wild Buckwheats (Eriogonum umbellatum, E. wrighti, E. lobbii, E. ursinum, E. nudum); Jewel Flower (Streptanthus tortuosus); the succulents Dudleya cymosa and Sedum obtusatum; Coyotemint (Monardella); Woolly Sunflower (Eriophyllum lanatum); Harlequin Lupine (Lupinus stiversii), Milkweed (Asclepias cordifolia), Pink Dogbane (Apocynum androsaemiifolium), Apricot Collomia (C. grandiflora), the yellow Composite Heterotheca villosa, Phlox diffusa, Sego Lily (Calochortus leichtlinii), Pink Pussy Paws (Calyptridium umbellatum), Showy Penstemon (P. speciosus), and a variety of drought-adapted ferns: Parsley Fern (Cryptogramma acrostichoides), Indian's-Dream (Onychium densum), and Bridges' Cliffbrake (Pellaea bridgesii). Poison Oak (Toxicodendron diversilobum) is common in moister sites. The butterfly fauna associated with these habitats is mainly a spring fauna, peaking when Yerba Santa is in bloom.
Another 1/3 of the site consists of extremely moist, mixed forest with a very high plant diversity. The dominant trees are Douglas Fir (Pseudotsuga menziesii), Yellow Pine (Pinus ponderosa), Sugar Pine (Pinus lambertiana), Incense-Cedar (Calocedrus decurrens), White Fir (Abies concolor), Bigleaf Maple (Acer macrophyllum) and Black Oak (Quercus kelloggii). These are joined in the understory by Pacific Dogwood (Cornus nuttallii), Hazel (Corylus cornuta var. californica), Black Cottonwood (Populus trichocarpa), White Alder (Alnus rhombifolia), Leopard Lily (Lilium pardalinum), False Solomon's-Seal (Smilacina racemosa); Blue Elderberry (Sambucus mexicana), Azalea (Rhododendron occidentale), Sierra Currant (Ribes nevadense), Deer Brush (Ceanothus integerrimus), Cascara (Rhamnus purshiana), Blackcap Raspberry (Rubus leucodermis) and Thimbleberry (R. parviflorus), Mountain-Ash (Sorbus californica), Wild Ginger (Asarum lemmonnii), Five-Finger Fern (Adiantum pedatum var. aleuticum), Lady Fern (Athyrium alpestre var. americanum), Chain Fern (Woodwardia fimbriata), Sword Fern (Polystichum munitum), Bleeding-Heart (Dicentra formosa), Columbine (Aquilegia formosa), numerous species of Saxifragaceae, Western Coneflower (Rudbeckia occidentalis), Trail Plant (Adenocaulon bicolor), Perennial Vetch (Vicia americana), Smooth Scouring Rush (Equisetum laevigatum), Common, Cardinal and Slimy Monkeyflowers (Mimulus guttatus, cardinalis and moschatus)... and many more. On sunlit rocks, the stonecrop Sedum spathulifolium is abundant. The introduced crucifer Lepidium campestre grows side-by-side with the native L. virginicum along roadsides, often joined by Yellow Rocket (Barbarea verna), the orange-flowered (lower-elevation) Erysimum capitatum – some individuals here are intermediate to E. perenne – and Tower Mustard (Arabis glabra). The butterfly fauna of the mesic forest mostly flies in early-to-midsummer.
The remainder of the site embraces a variety of successional habitats, of which meadows are most prominent. At the lower end of the site is the easternmost part of Bear Valley, which was important to the early wagon trains as a place to stop and fatten up the livestock for the final descent to the Sacramento Valley. Parts of this meadow are wet all year at least in good years; they are dominated by sedges, Avens (Geum macrophyllum), and Bistort (Polygonum bistortoides). The drier parts have a very rich perennial, herbaceous flora including Giant Hyssop (Agastache urticifolia), Aster, Goldenrod (Solidago canadensis ssp. elongata), naturalized Mentha and Black-Eyed Susan (Rudbeckia hirta), Sneezeweed (Helenium bigelovii), Cow-Parsnip (Heracleum lanatum), Broad-leaved Lupine (Lupinus latifolius), Yarrow (Achillea borealis), native perennial Sweet Pea (Lathyrus jepsonii var. californicus), Narrow-Leaved Lotus (L. oblongifolius), Rein Orchid (Habenaria dilatata), Bracken (Pteridium aquilinum), etc., etc.
Lang Crossing – the name refers to the historic trail crossing the South Yuba River, just below the Emerald Pools, now marked by the foundations of two former bridges just upstream of the current one – receives abundant snowfall, but at this elevation continuous snowpack through the winter is not a certainty. The butterfly season is 30-38 weeks, but non-hibernators have appeared as early as February in very precocious years (the usual start of the season is in March-April). As usual, only a handful of species emerge only in the last third of the season. It is striking that the number of species flying typically drops off abruptly in late summer, even while the vegetation is still in good condition and nectar sources are superabundant. Summer precipitation is rare—usually occurring in spotty thunderstorms generated by the northwestward penetration of the Mexican monsoon.