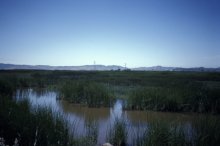 At the time of European colonization, California had an estimated five million acres of wetlands. Perhaps 5% of that total remains. The Suisun Marsh, covering some 44,000 acres in Solano County, is probably the largest marsh tract remaining in a reasonably natural state on the Pacific Coast of the United States. The marshlands occupy a basin defined by the Coast Ranges on three sides and Suisun/Grizzly Bay on the fourth. Much of the marsh is under the control of hunt clubs, whose management practices vary widely. Portions are cut over or burned from time to time; through an extensive system of levees, ditches and gates the water level can be manipulated on different parcels. The marsh is tidally- influenced and soil salinity varies greatly. The result of all these factors is a complex vegetational mosaic. The study area includes all three major vegetational components. It is located at the Peytonia Ecological Preserve, which is accessible directly from the municipal marina in Suisun City. It is flat, below 1m in elevation.
The climate differs from those of both the coastal fog belt and the Central Valley and is actually intermediate between them. The nearby Carquinez Strait passes through a gap in the Coast Ranges which allows the cold, moist marine air responsible for summer coastal fog to penetrate the interior in response to a gradient in barometric pressure. The marine layer is shallow, normally less than 2000 feet thick, so it cannot overtop the hills and flows inland along the Strait as through a pipe. Remember Bernoulli's Principle from high-school Physics? The narrower the pipe, the faster the flow. The strong, persistent wind gives the place its name: "Suisun" means "west wind" in the Native American language of the area. Winds in excess of 20 knots occur on at least 100 days a year, mostly in summer. Suisun is thus much cooler than areas farther inland. But the low cloud or fog rarely penetrates this far inland, so it is almost as sunny as the Central Valley. Temperatures in excess of 100F (37.7C) or below 30F (-1.1C) occur only about 3-5 times a year, and greater extremes are rare.
Major Vegetation Types
Along sloughs, in non-saline mud and on higher ground within the marsh, aspect dominants are showy perennial composites, which bloom in late summer and autumn, coinciding with peak butterfly season: some characteristic species are: Grindelia humilis, G. paludosa, Aster chilensis ssp. lentus (Suisun Aster), Baccharis douglassii, Cirsium hydrophilum (now extinct at Peytonia), Euthamia (Solidago) occidentalis (Western Flat-top Goldenrod), Helianthus californicus (California Sunflower), Achillea borealis ssp. arenicola (Yarrow), Pluchea purpurascens, Cicuta bolanderi (Water-Hemlock), Apium graveolens (Celery), Oenanthe sarmentosa, Potentilla egedei, Atriplex patula var. hastate (Orache), Asclepias fascicularis (Narroqw-Leaved Milkweed), Lotus corniculatus (introduced)(Bird's-Foot Trefoil), Lathyrus jepsonii var. jepsonii, Phragmites australis var. berlandieri (Common Reed), Scirpus olneyi (Olney Sedge), S. koilolepis, S. acutus, Juncus effusus var. brunneus, and Typha latifolia (Cattail).
In saline mud, often flooded tidally, the aspect dominants are Distichlis spicata and Salicornia virginica (Pickleweed). Associates include Atriplex patula var. hastata, Lilaeopsis occidentalis, Polygonum aviculare var. littorale, Polygonum fowleri, Cotula coronopifolia (Brass Buttons), Frankenia grandifolia, Eryngium articulatum, Malvella leprosa (Alkali Mallow), Rumex crispus (Curly Dock), Sesuvium verrucosum (Sea-Purslane), Juncus acutus var. sphaerocarpus, J. bufonius, and Scirpus olneyi.
On landfill a weedy vegetation prevails, which is gradually reverting to native marshland flora. The native shrub Baccharis pilularis ssp. consanguinea (Coyotebrush) and the introduced shrub or small tree Tamarix pentandra form thickets. Conspicuous weedy species, many of which are important butterfly resources (larval host plants, adult nectar sources, or both) include Centaurea solstitialis (Yellow Star Thistle), Cichorium intybus (Chicory), Lactuca serriola (Wild Lettuce), Cirsium lanceolatum (Bull Thistle), Silybum marianum (Milk Thistle), Malva rotundifolia (Cheeseweed), M. nicaeensis, Convolvulus arvensis (Hedge Bindweed), Epilobium paniculatum, Atriplex rosea (Redscale), A. semibaccata (now extinct at Peytonia), Polygonum aviculare, Foeniculum vulgare (Sweet Fennel), Bromus rubens, B. rigidus (Ripgut), Avena barbata, and Phalaris aquatica (Harding Grass) – and many others.
The Suisun Marsh has several endemic plant taxa: Grindelia paludosa, the nearly-extinct Cirsium hydrophilum, and Aster chilensis ssp.lentus. There is one endemic vertebrate, the Suisun Shrew (Sorex sinuosus). Two endemic species occur there and in other salt marshes around the San Francisco Bay area: the plant Grindelia humilis and the Salt-Marsh Harvest Mouse (Reithrodontomys raviventris).
The butterfly season is 44-52 weeks/year. Nearly all of the butterflies breeding at Peytonia are multivoltine. A variety of species that do not breed in the marsh stray in more or less regularly from the surrounding Coast Range foothills; these include butterflies characteristic of oak woodland, chaparral, and annual-grassland communities. The peak butterfly season is September and October, when large numbers of many species may be observed visiting Aster, Euthamia, Baccharis and other flowers in bloom along and near the sloughs. In good years many migrating Monarchs may pass through the marsh at this time. The "best" breeding species is the Yuma Skipper (Ochlodes yuma), which also occurs widely in the Sacramento-San Joaquin Delta and breeds on Phragmites.