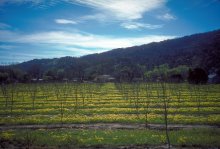 Gates Canyon is located in the Vaca Hills, part of the North Inner Coast Range just west of Vacaville, Solano County. It is the canyon of Alamo Creek, a semi-permanent stream (dry at the surface in its lower reaches in late summer) draining into Pleasants Valley, which runs N-S between the Vacas and the lower English Hills. As an eastward-draining canyon it has N- and S-facing slopes which differ dramatically in vegetation.
The location and topographic setting of Gates Canyon produce a precipitation anomaly, giving it approximately twice the annual rainfall that might otherwise be expected from regional data, and excessive amounts with severe winter storms produce flash floods and remodel the canyon to varying degrees. The heavy rainfall contributes to rich flora and butterfly fauna.
The lower part of the canyon (from the mouth to about 190m) is largely devoted to agriculture, particularly fruit-growing and cattle grazing, with a few small vineyards and scattered houses. Although cattle graze higher up the canyon, as it narrows and the walls become steeper human impacts are greatly lessened. The upper end of the study area is arbitrarily set around 600m. All the land in the canyon is private, and survey is done on and from the road. Although there are potential limitations on how well a canyon-bottom survey reflects the butterfly fauna of the canyon as a whole, since the object of the study is interyear comparison these can properly take a back seat to methodological consistency. (That is, there is no reason to suspect that coverage is more effective in some years than others, given consistent methodology.)
The Vaca Hills, like the surrounding area, have a Mediterranean climate in which <5% of annual precipitation normally falls from June through September – often there is no measurable precipitation in summer. Summers are sunny and hot, with afternoon temperatures often exceeding 100F (38C), but a wind gap open to the southwest allows the sea breeze to penetrate the canyon directly, as well as more indirectly from the south end of Pleasants Valley where it merges into Lagoon Valley. This, and the shade cast by the south wall of the canyon, makes it less hot than even Mix Canyon, the next canyon north. In winter the valley fog penetrates the canyon only weakly and irregularly. Hard freezes are infrequent. The butterfly season is 44-52 weeks/year, though very little is present from late November through mid or late January.
Major Vegetation Types
The vegetation of Gates Canyon contains elements of all the major regional plant communities except those endemic to unusual soils. The flora and vegetation are very responsive to slope and exposure and concomitant levels of insolation and drought stress. The north and south facing slopes have special species, and for species found on both there may be striking differences in seasonality.
The agricultural land at the base of the canyon has a typical weedy flora, including annual grasses of Mediterranean origin, three annual species of mustards (Brassica) and one of wild radish (Raphanus), Sweet Fennel (Foeniculum vulgare), mallows (Malva), pigweeds (Amaranthus), and the native Fiddleneck (Amsinckia), etc. The recently naturalized small Pot-Marigold (Calendula officinalis) is common around the orchards.
Within the canyon, north facing slopes are uniformly covered by Live Oaks (this population shows traits intermediate between Quercus agrifolia and Q. wislizenii) with admixture of Bigleaf Maple (Acer macrophyllum), California Bay (Umbellularia californica), Black Oak (Quercus kelloggii), Gray Pine (Pinus sabiniana) and others.There are several specimens of Oracle Oak, the hybrid (Q. X. morehus) of Black Oak and Interior Live Oak. Except where mudslides or tree falls have occurred, little sunlight reaches the ground. However, the understory is very rich, including Maidenhair Fern (Adiantum jordanii), Goldenback Fern (Pityogramma triangularis), California Polypody (Polypodium californicum), California Pipevine (Aristolochia californica), Chinese Houses (Collinsia heterophylla), Larkspurs (Delphinium spp., including the unusual bright red D. nudicaule), Mule's Ears (Wyethia helenioides), Henderson's Shooting-Star (Dodecatheon hendersonii), Elegant Clarkia (C. unguiculata), Checker-Lily (Fritillaria affinis), Golden Fairy-Lantern (Calochortus amabilis), Pacific Peavine (Lathyrus vestitus), Woolly Sunflower (Eriophyllum lanatum), California Rock-Parsnip or Biscuitroot (Lomatium californicum), Angelica (Angelica tomentosa), Broad-leafed Aster (Aster radulinus),Hill Star (Lithophragma heterophyllum), Iris (I. fernaldii), Varied-leaf Nemophila (N. heterophylla), Yellow Rocket or Winter Cress (Barbarea verna), Milkmaids (Cardamine or Dentaria californica), Hound's-Tongue (Cynoglossum grande), etc.,etc.; among woody species, Poison Oak (Toxicodendron diversilobum), Wild Lilac (Ceanothus cuneatus), Toyon (Heteromeles arbutifolia), Bush Monkey-flower (Mimulus or Diplacus aurantiacus), Mountain-Mahogany (Cercocarpus betuloides), Flowering Ash (Fraxinus dipetala) and Shrubby Penstemon (Keckiella lemmonii); among the bunchgrasses, California Fescue (Festuca californica) and California Melic (Melica californica)... and many, many other species. North facing slopes show little if any penetration by weedy exotics. Old mudslides are often covered by California Fuchsia (Epilobium or Zauschneria canum) or by Pitcher Sage (Salvia spathacea), both of which form large colonies by vegetative reproduction. Gates Canyon is near the northern range limit for S. spathacea.
South facing slopes are mostly covered by Blue Oak (Quercus douglassii) woodland. The trees are far enough apart for a great deal of sunlight to reach the ground. The understory has been very heavily invaded by Mediterranean annuals (grasses and others) and the native flora is richest in rocky areas, where some characteristic species include the succulent Dudleya cymosa, the Yampah (Perideridia kelloggii), Bush Lupine (Lupinus albifrons), Annual Blue Lupine (Lupinus succulentus), Imbricate Phacelia (P. imbricata), Ithuriel's Spear (Triteleia laxa), Blue Dicks (Dichelostemma capitatum), Twining Brodiea (Dichelostemma volubile), Yerba Santa (Eriodictyon californicum), Common Buckwheat (Eriogonum nudum), Soap Plant (Chlorogalum pomeridianum), Red Ribbons (Clarkia concinna), Farewell-to-Spring (Clarkia amoena), Coffee Fern (Pellaea andromedifolia), and Bird's-Foot Fern (P. mucronata)... and many others. Poison Oak, Toyon, and Manzanita (Arctostaphylos Manzanita) occur along with occasional Live Oaks in favorable sites.
Across the upper reaches of the canyon, barely impinging on the study site, is extensive mixed chaparral, dominated by Chamise (Adenostoma fasciculatum), with associated Manzanita and Wild Lilac, Scrub Oak (Quercus berberidifolia), Chaparral Pea (Pickeringia montana),Redberry (Rhamnus crocea), Virgin's Bower (Clematis lasiantha), etc.In the draws, Gray Pine is usually dominant. The chaparral zone was deliberately excluded from the site in order to keep the length of the survey walk tractable.
The riparian corridor at the bottom of the canyon contains Bigleaf Maple, Fremont Cottonwood (Populus fremontii), Valley Oak (Quercus lobata), three species of Willows (Salix), White Alder (Alnus rhombifolia),Chaparral Currant (Ribes malvaceum), Wild Grape (Vitis californica), California Buckeye (Aesculus californica), Spicebush (Calycanthus occidentalis), Redbud (Cercis occidentalis), Durango-Root (Datisca glomerata), Mule Fat (Baccharis salicifolia), California Mugwort (Artemisia douglasiana), Horsetail (Equisetum telmateia ssp. braunii) and the sedges Carex nudata and Cyperus eragrostis... etc. The riparian corridor has been invaded by Spanish Broom (Spartium junceum), but it is not abundant.
Weeds such as Yellow Star-Thistle (Centaurea solstitialis), annual Mediterranean thistles, Sweet Fennel and annual grasses can be found along the immediate roadside except in the coolest, moistest, shaded areas. One naturalized weed, Hedge Mustard (Sisymbrium officinale var. leiocarpum), is found only in the cool, shaded areas (where it is used as a Pierid host plant).
The native foothill butterfly fauna is phenologically coordinated with the flora, being either single- or double-brooded in spring and dormant through the summer, fall and winter (!). Only one common butterfly, the Woodland Skipper (Ochlodes sylvanoides), flies only in the second half of the season—though many multiple-brooded, weedy species colonize upslope into the canyon temporarily in summer, mostly associated with roadside weeds. Butterflies whose larvae feed on riparian trees are generally double- or triple-brooded, as their hosts continue to put on new growth throughout the summer. The two most important nectar sources are California Buckeye in late spring and Coyotebrush (Baccharis pilularis ssp. consanguinea) in autumn.
References
Further ecological information about the Vaca Hills is available from:
Correigh Greene and Mikaela Huntzinger,eds. 2001. The Natural History of Stebbins Cold Canyon Reserve.University of California Natural Reserve System. ISBN 09714563-0-5. and University of California Natural Reserve System.2004. Natural History of the Quail Ridge Reserve. U.C.Davis. (Keep in mind that although close to Gates Canyon, each of these sites has its own unique properties.)