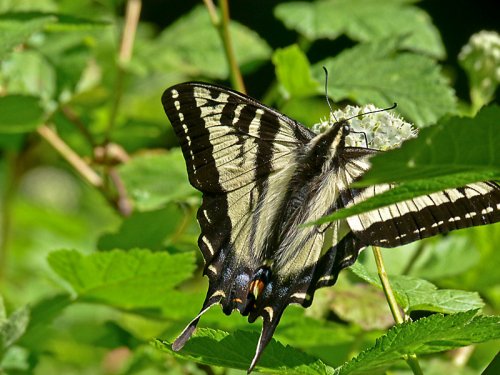 Common from the lower foothills to tree-line; not often seen in the Central Valley. Our only tiger-striped Swallowtail with a white or whitish ground color, and the only one that is always single-brooded (April-August at low elevations, June-September in the high country). Males patrol canyon bottoms but also hilltop, especially in chaparral. Both sexes are avid flower visitors. In the foothills they are often seen on Vetch, Yerba Santa, Blue Dicks, Ithuriel's Spear, and California Buckeye. They are extremely attracted to the orange Western Wallflower and to our native Lilies, especially the white L. washingtonianum; on the Sierran West slope many specimens will be found plastered with sticky orange lily pollen.
Host plants Rhamnus and Ceanothus species (Rhamnaceae), though females have been observed numerous times laying eggs on White Sweet-Clover (Melilotus alba), a Fabaceous, herbaceous weed - presumably a mistake facilitated by some as-yet-unexplained chemical similarity.
A devout puddler, extremely photogenic when groups of dozens of young malwes aggregate by the side of the road.