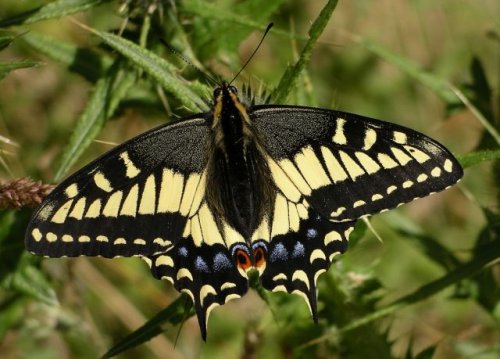 The Anise Swallowtail is a complex set of ecological races, or "ecotypes," whose seasonality has been adjusted by natural selection to match that of their host plants. Selection for adaptive life-history traits seems to have proceeded much faster than evolution at the level of neutral molecular loci.
At sea level our populations are strongly multivoltine, with only weak, facultative pupal diapause. They have several generations (late February or March-October) and breed very largely on Sweet Fennel ("Anise"), Foeniculum vulgare, and (in the first half of the season) Poison Hemlock, Conium maculatum. Both of these are naturalized European weeds. We believe this ecotype originally lived in the tule marshes and bred on Water Hemlock (Cicuta) and another Apiaceous plant named Oenanthe. These are still used, but only rarely in comparison to the weeds; they are the only native hosts avalable in the Mediterranean summer that could have sustained repeated breeding. In some parts of the Central Valley, the two species of the naturalized genus Ammi (Bishop's Weed, Toothpick Weed), which are summer annuals, attract ovipositing females - but they are 100% toxic to the larvae. Either selection will improve the butterfly's discriminatory abilities, or result in the ability to detoxify these plants! In some localities (for example, Negro Bar State Park near Folsom) the most important host is Queen Anne's Lace or Wild Carrot (Daucus carota), another naturalized weed but spotty in its distribution and not found at any of our sites.
On serpentine in the Coast Range and Sierra foothills occur obligately single-brooded populations with very strong (often multi-year) diapause. These feed on native species of the Apiaceous genus Lomatium, which are only available for a few weeks in spring. These butterflies fly March-June, depending on locality. These races do not occur at our transect sites.
At all our Sierran sites the populations are basically single-brooded, but with a partial second brood some years (even at Donner). They feed on a great variety of Apiaceae, varying by site; at Washington on Lomatium, Perideridia and Tauschia; at Lang and Donner, mostly on Angelica; at Castle Peak on Cymopterus and Lomatium; and at Sierra Valley on Lomatium and (second brood only, when it occurs) Conium.
In the far northern Sacramento Valley and in southern California there are multivoltine races feeding on the tender shoots of cultivated Citrus (Rutaceae)! The commonality is secondary chemistry, shared with Apiaceae. There are no records on Citrus in our area. Chemically unusual Apiaceae, such as the genera Sanicula, Eryngium and Hydrocotyle, are never used, nor is the sister-family Araliaceae which does not share the usual chemistry.
In multivoltine populations the spring brood is typically small, pale, heavily marked with blue and with narrow dark borders on all wings. Summer individuals are larger, with richer yellow color, broader black borders and little or no blue in males. Univoltine populations tend to be intermediate between these extremes. The small larvae resemble bird droppings. Large larvae are pale green with black bands containing orange spots; in hot, dry sites there is more green and less black, while under cool, humid conditions the green may even disappear! The pupae may be brown or green.
Adults puddle and are addicted to hilltopping; at Castle Peak one may see dozens of males a day. In flat country males are territorial perchers in sunflecks, as in riparian forest. Both sexes visit a vast array of flowers, including Yerba Santa, Coyotemint, Blue Dicks, Ithuriel's Spear, California Buckeye, Thistles, Buttonbush... and on and on.