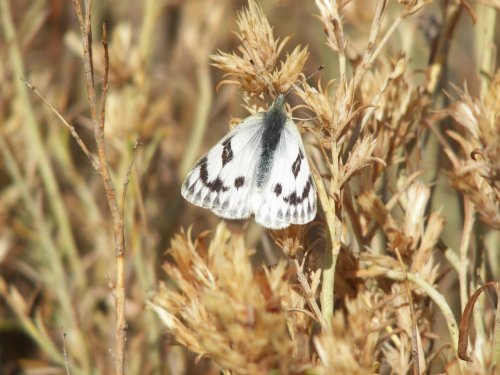 Very similar to the Checkered White, which it largely replaces at higher elevations. Our Western White is probably conspecific with the Old World Pontia callidice, and alpine or early-season specimens of ours are indistinguishable from the Himalayan taxon P. c. kalora.
The Western White is a great hilltopper, often flying in clouds around rocky balds above tree-line. But it is also at homein disturbed roadside habitats and in weedy pasture or irrigated alfalfa, as at Sierra Valley. Both sexes are extremely variable, individually and seasonally. At 9000' there is only one local brood, consisting of the extremely dark-veined phenotype "calyce," which also occurs in the first (late winter) brood at Sierra Valley, often flying in March. September-November specimens are transitional to it. To make matters more complicated, up to about 1% of specimens may be hybrids with the Checkered White where the two co-occur.
Neither species is a permanent resident at Lang Crossing, but both colonize there on a temporary basis. Occidentalis appears to be permanent at Donner, Castle and Sierra Valley. It has been recorded three times on the floor of the Sacramento Valley, all in mid-October. Two of these were at our Rancho Cordova site (in different years!). Downslope dispersal is much less often documented than the reverse, so these cases are especially interesting.
Documented host plants at our sites include Lepidium virginicum var. pubescens, L. perfoliatum, L. campestre, Cardaria pubescens, Sisymbrium altissimum and Descurainia sophia (all Brassicaceae). In addition to Brassicaceae, adults nectar at a great variety of Composites (they are regulars at Rabbitbrush and Aster) and Alfalfa, among others. The flight season in Sierra Valley is March through October, with about four broods; at Donner, June-October; on Castle Peak June-September, prolonged by altitudinal dispersal of hilltoppers not hatched locally. This species is sometimes extremely abundant, particularly in Sierra Valley.